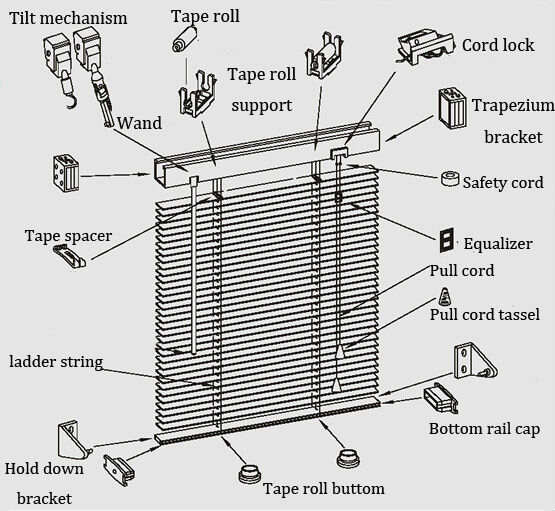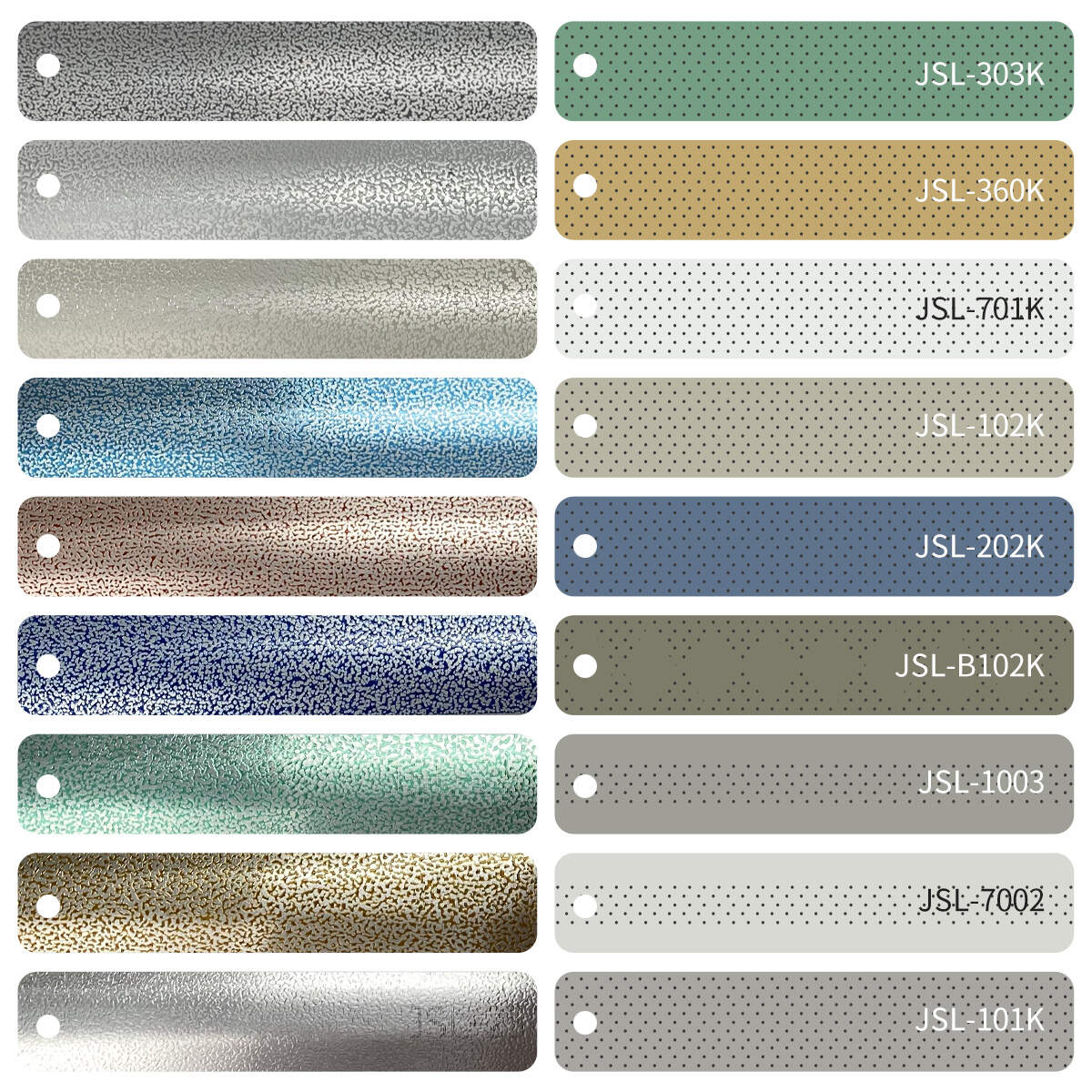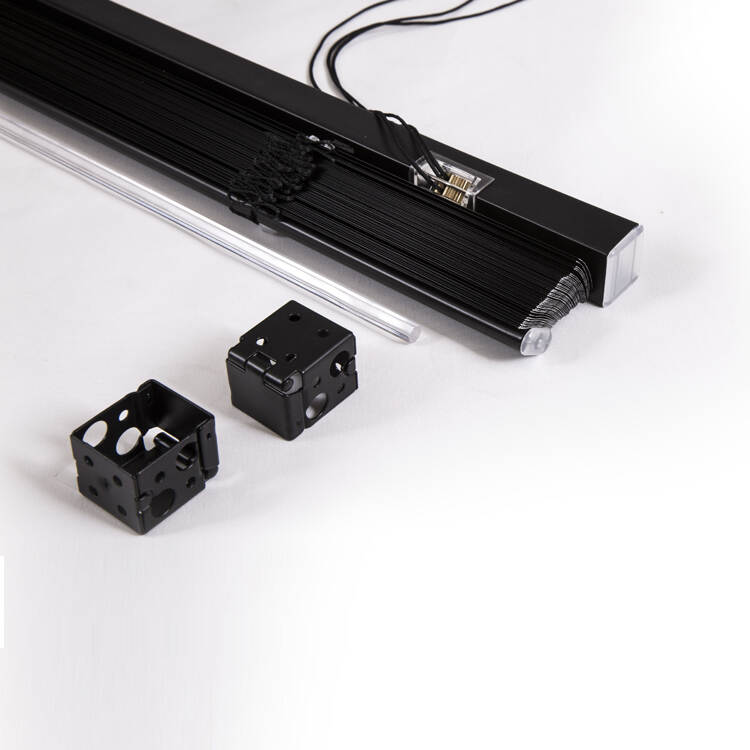 Why choose mini blinds for your home?
Mini blinds, also known as aluminum blinds, are the perfect choice for many rooms and styles. Here's why:
* Mini blinds are a super low cost options that give you all you need in window functionality.
* Easy and intuitive light control and privacy.
* As some of the lightest blinds on the market, aluminum mini blinds are easy to install and operate for years to come.
* Due to their thin profile, mini blinds are ideal for windows and doors with shallow depth.
Features
Custom window coverings can be upgraded in more ways than just color and style. Here's just a few that are available with mini blinds:
*JSL aluminum mini blind, tilt rod and middle support installed in heavy steel low type top rail, baking finish stainless, matching color with environmental paint. 25mm(1 inch) color slats,very straight and damp proof ,mould proof. No lead,evironmental slats are safe for your family.thickness options: 0.14mm, 0.16mm, 0.18mm,0.21mm.Steel bottom rail, we have c type and H type options, end caps can be transparent or match colors.Square box or spider type install bracket, easy to install both on ceiling or on wall.
* Cordless Lift: This popular option provides a hidden control system that eliminates the lift cord on your aluminum blinds and enables the shades to be easily raised or lowered with the touch of a finger.
* Motorized Lift: With a motorized lift upgrade, your mini blinds can be raised or lowered at the push of a button.
Advantage of aluminum mini blind
Mini blinds are an affordable and quick way to add privacy to any type of window. These lightweight blinds are easy to use, look fantastic and operate flawlessly. 1 inch aluminum mini blinds and micro mini blinds create a traditional look to any window.
Advantages
They create a barrier for allowing the bright sunlight into your home, providing great savings to your utility bill.
They provide a great deal of privacy, allowing you to see out when desired, but not allowing outsiders to see in.
The versatility with colors, sizes and textures allows even the most discerning decorator to create the ambiance to match the rest of the décor.
They provide a protective barrier to the windows themselves, keeping objects from striking the glass, which might otherwise cause breakage.
They are easy to clean and maintain, as they are lightweight and easily adjusted.
They fit in well with not only your home décor, but your office needs as well.
They are incredibly affordable and very easy to install, allowing you to cover all your windows at once.
Window mini blinds are constructed from several materials, including wood, vinyl, aluminum, and faux wood. They provide a great deal of protection from the sun's rays entering your home or office, and they are easily installed. Their lightweight, yet durable construction affords easy manageability when raising and lowering, opening or closing.
One of the biggest advantages of window mini blinds is the expense, or lack thereof. While they are attractive, and can make any room a showpiece, they are very affordable. And while the affordability makes them appealing, the versatility creates an even higher level of demand for these window coverings.
When it comes to window covering providing privacy, window mini blinds are hard to beat. Depending on your needs, they can block all sunlight, or allow enough light in to keep your room lit during the day. They can even be ordered with no routing holes for maximum privacy.
To get your windows covered in an attractive, affordable way, window mini blinds are the obvious answer.
Our lightweight mini blinds while sporting a lightweight construction still maintain a long lasting and durable profile. So you can be assured wherever you place these mini blinds they will hold the test of time and also the stress of any environment they're placed in. Whether it be hot and humid or dry and frigid these gorgeous blinds will hold up strong and look fantastic wherever placed. Mini blinds are ideal for offices and motor-homes alike.
OPERATING INSTRUCTIONS
1. Raise or lower the blind (A) by lting or lowering the bottom rall to the
desired height with both hands.
Note 1: Blind cannot be shortened.
Note 2: If the bottom rail is uneven,push up the lower side or pull down
the higher side to make the bottom rail even.
2 Open or close the blind (A) slats by urmning the wand
(C) untl the slats are opened or closed to the desired position.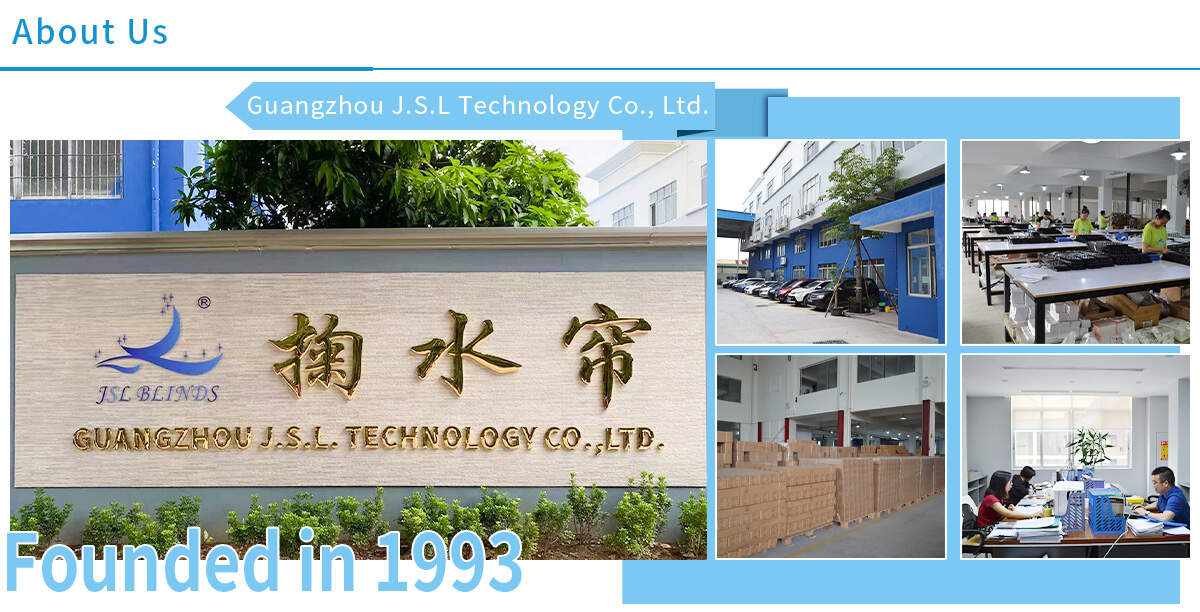 Company Profile
Guangzhou J.S.L Technology Co., Ltd.is situated in guangzhou,China. Our factory was found in 1993,we are a manufacturer that produces and sells a variety of window blind and intelligent sunshade products.Our own workshop covers an area of about 10,000 square meters, with three main production lines,several automatic and semi-automatic professional production lines,such as automated mini blind equipments, roller shade equipments, packaging equipments, etc.We have about 100 skilled production staffs, 20 management staffs,5 development and design staffs. Committed to becoming a one-stop purchasing blinds factory,our production line includes aluminum blinds, wooden blinds,faux wood blind, vertical blinds, PVC venetian blinds, bamboo blinds, roller blinds,vertical blind,zebra blind,RV blinds,motorized blind and related blind parts, blind making machines.
We can yearly output 1.5 million pcs PVC and aluminum blinds,500,000 pcs faux wood blind,200,000 pcs vertical blind,1.5 million pcs roller shade, 1.5 million pcs pleated shade,1.5 million pcs other blinds. Our products are exported to Europe, America, Southeast Asia and the Middle East and have won us a good reputation. As one of the most well-organized and experienced professional manufacturer of window decorations in China, we can ensure excellent quality, attractive prices and good services. We are trying our best to satisfy our customers through continuous research and development of new products and prompt delivery. Clients from domestic and abroad are welcome to contact us for business cooperation. About 100 skilled production personnel, 15 excellent quality inspectors, and 20 experienced management personnel ensure product quality and delivery time. 10 sales provide customers high-quality pre-sales and after-sales service.
Our services
OEM
ODM
Free sample
6 months quality guarantee
On-site or online factory and goods inspection
Online survey site, remote guidance of design, installation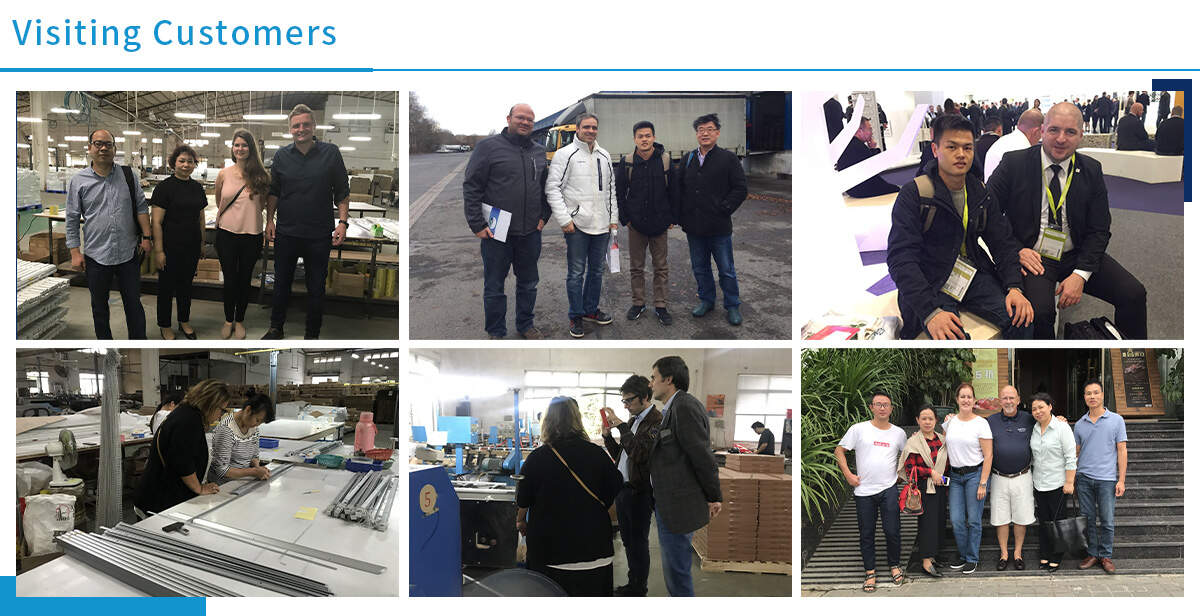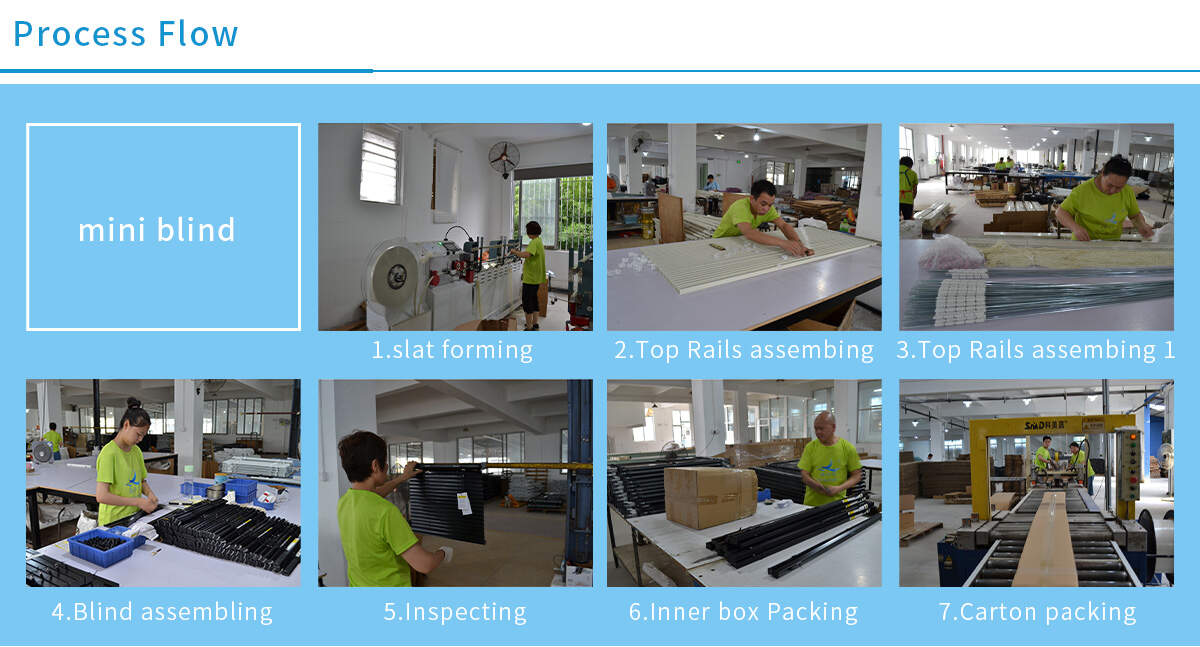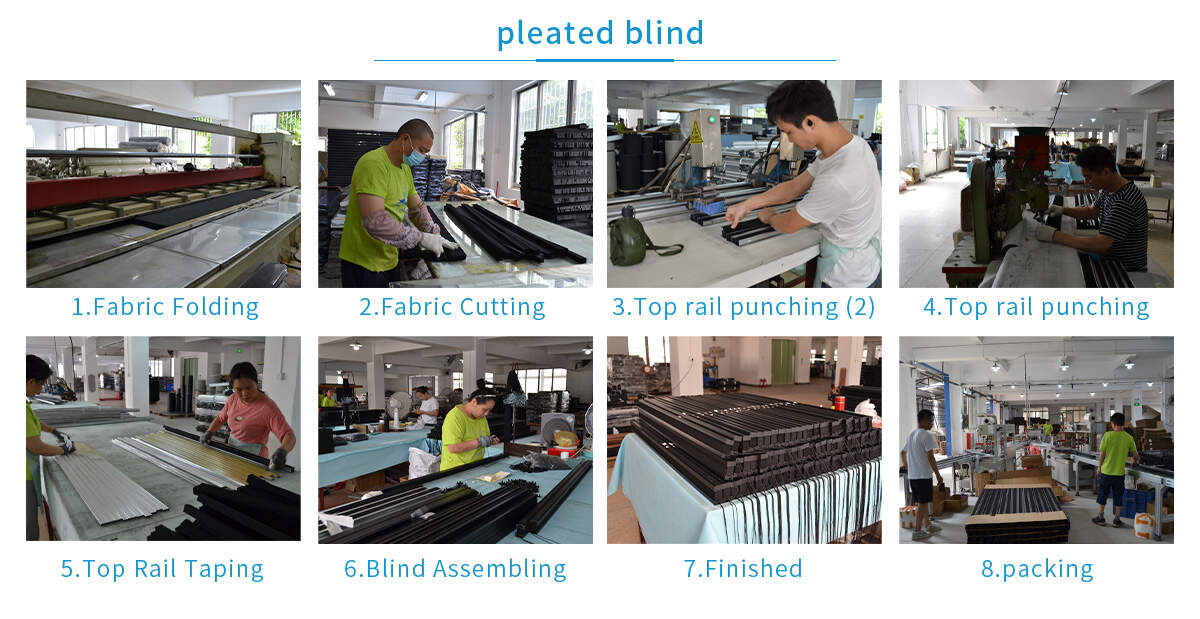 Process flow of venetian blind
Forming and punching of slats
Rails prep installation
Connect slats anad rails
Inspection
Package
Process flow of fabric blind
Fabric cutting, folding
Rails prep installation
Connect fabrics anad rails
Inspection
Package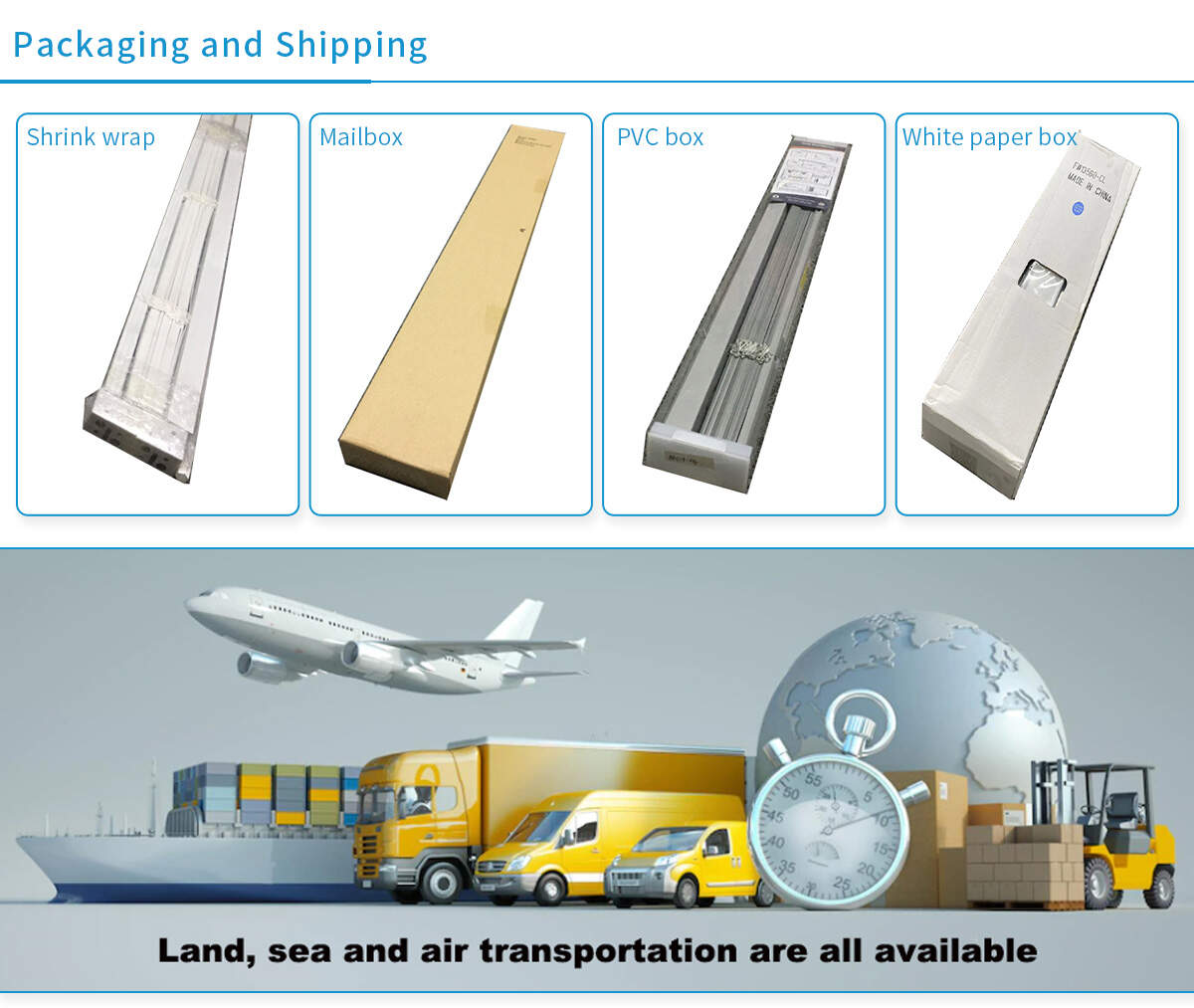 Packing & Shipping
Generally, the goods are delivered to customers by sea or air, the production time is 45-60 days, and the goods are packed in carton or pallets.Sale package option: Paper boxes, PVC transparent boxes, mail order boxes and so on.What is more, packaging can be designed according to customer requirements.
FAQ
Q: What is the MOQ?
A: MOQ: 300PCS
Q: What is your delivery time?
A: 45-60 days
Q: What is the payment method?
A: TT,L/C,Paypal, West Union, 30% deposit,70% balance before shipping.
Q: How do you guarantee the quality of your products?
A: we have an inspection team of 10 workers, 100% inspection for every piece of blind from appearance to function.
Q: Are you a factory or a trading company?
A: We are a manufacturer.
Q: Where is your factory?
A: Guangzhou,China
Q: Are custom services available?
A: Yes.
Q: Do you support OEM and ODM?
A: Yes.
Q: Why choose us?
A: We have the following advantages: competitive prices,high quality, on time delivery,free samples.7/24 hours after-sale service.We can be your trustful partners on window blinds and shades markets!
Q: How long is the product warranty?
A: 6 months.
Q: Does your packaging ensure product safety?
A: Sale package option: Paper boxes, PVC transparent boxes, mail order boxes and so on. Seaship outer package:and the goods are packed in carton or pallets.
Q: What information do I need to provide to get an accurate quote?
A: Blind type, blind width and height, quantity and other request.
Q: How can I get product progress without going to your company?
A: We will keep you updated on production stage by email,when the goods are ready you can have video inspection,video shipping monitor.
Q: How is your after-sales service?
A: 7 sales provide customers high-quality pre-sales and after-sales service.
Q: Can samples be ordered?
A: Yes.
Q: How much is the sample fee, can it be refunded after bulk product?
A: Most samples are free, for high value samples we will charges and refund accordingly order scale.
Q: Do you provide quality assurance?
A: 6 months quality guarantee.
Q: Do you support providing samples?
A: Yes.
Q: What is the supply capacity?
A: We can yearly output 1.2 million pcs PVC and aluminum blinds,450,000 pcs faux wood blind,200,000 pcs vertical blind.