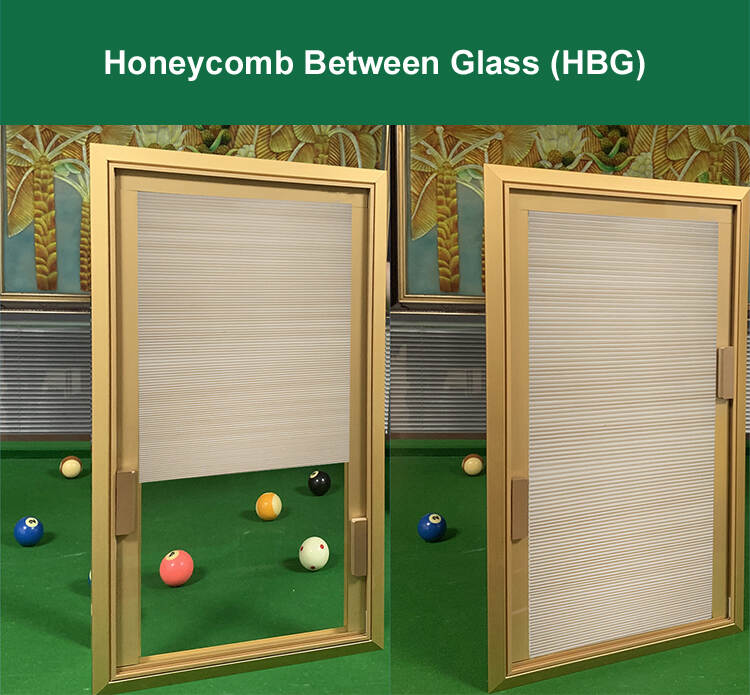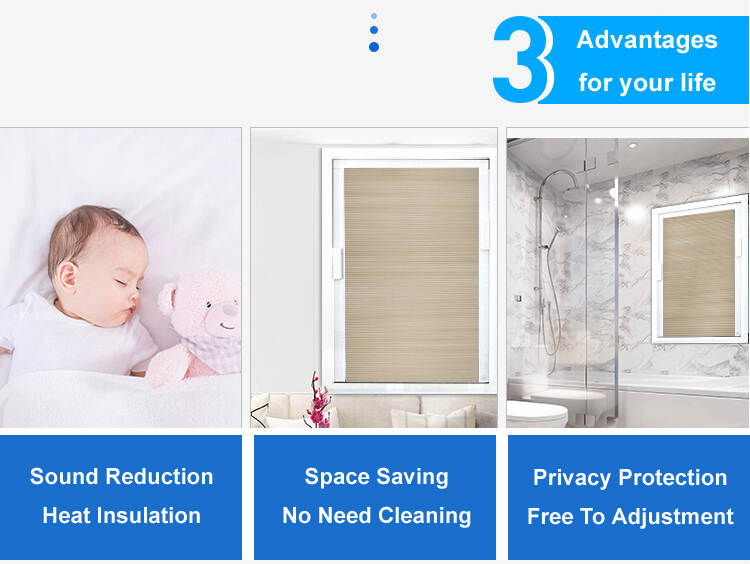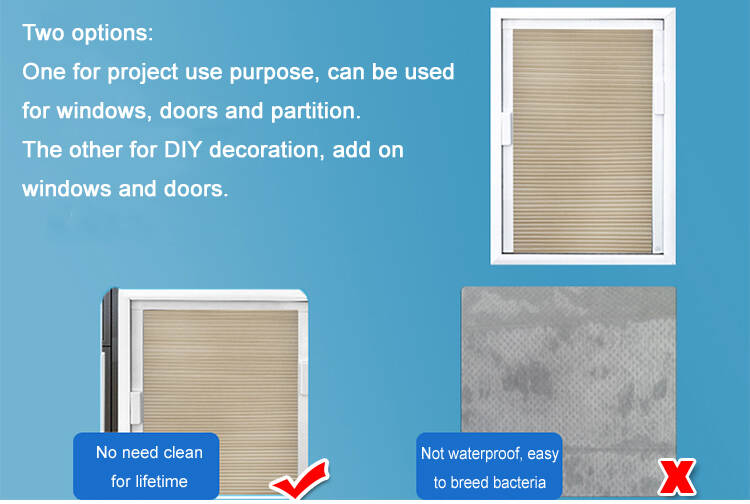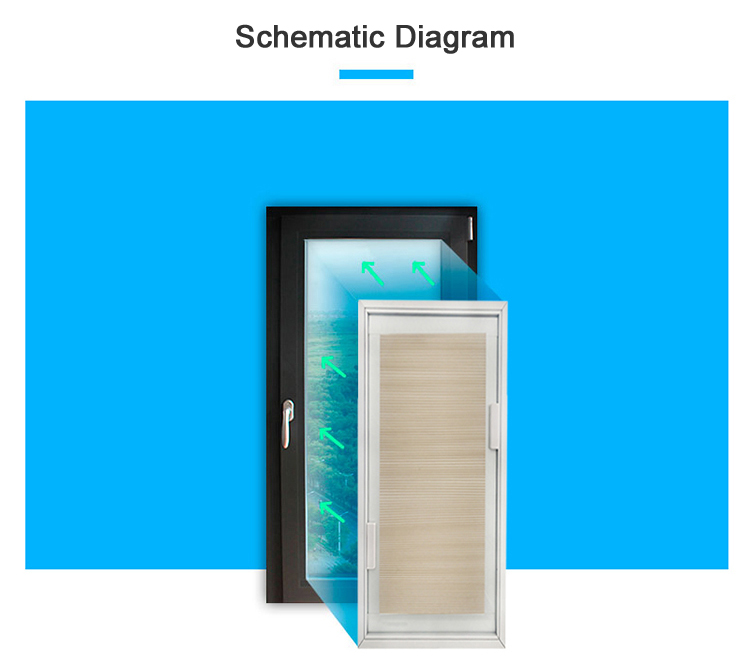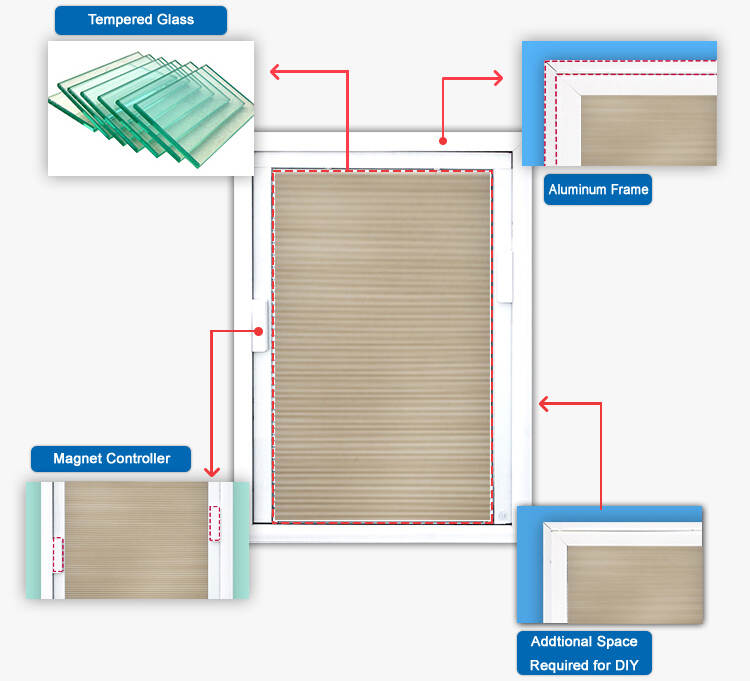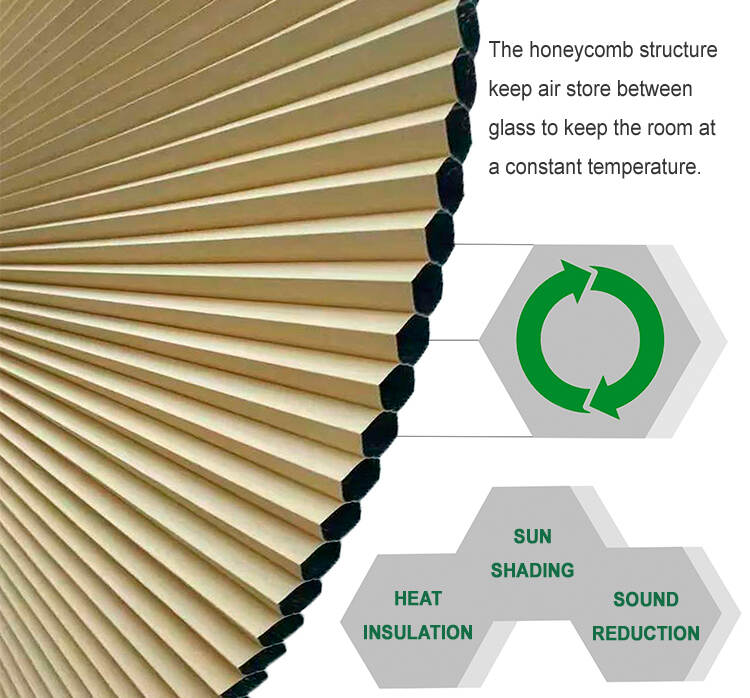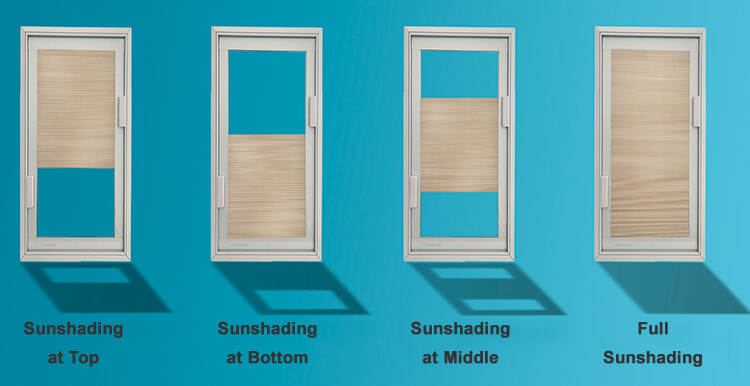 Integral honeycomb celullar blinds glass is a new sunshade product that has just emerged in recent years. It perfectly integrates the honeycomb shade used for sunshade into the ordinary insulating glass, and becomes a rookie in sunshade and energy-saving insulating glass, which promotes the integration of building shading.
Different from the push-up honeycomb curtain on the market, the push-up honeycomb curtain insulating glass on the market is one of the honeycomb curtain insulating glass, that is, the control mechanism of the honeycomb blind is set in the cavity between the two pieces of glass. , and then seal the four sides between the two pieces of glass with insulating glass sealant, and push the adjustment switch upward to get light from below. The hollow honeycomb curtain of the water curtain has added an original descending transmission mode, which can be opened at any position. "Any" means willfulness and randomness, that is to say, the built-in honeycomb curtain can be pulled as you will, and it can be in any position where you want, up and down. Both can be lighted and can protect privacy, which is more humane and convenient for our lives.
One point that needs to be emphasized is that we are designed wirelessly. Compared with the design of two wires in the operation process of the honeycomb curtains on the market, our products aesthetics have been greatly improved.
The advantages of this product
Introduced honeycomb blind: imported honeycomb fabric, with thermal insulation effect;
Sound insulation effect, effective noise reduction 20Db, energy saving and no formaldehyde;
full blackout honeycomb curtain can completely block sunlight due to its double aluminum foil on the inner wall, effectively protecting privacy, light can be adjusted at will.
In addition to the functions of dimming, sound insulation, heat preservation, and privacy protection, the hollow built-in honeycomb curtain has another feature: no cleaning, double-layer glass is tightly sealed to ensure the cleaning of the hollow part and keep it clean, and it is suitable for office partitions, sun rooms, bedrooms, kitchens and toilets, etc.
The best choice for your indoor space
Bedroom
The first thing you think about is privacy and how much you want. Shadows are perfect for pure darkness, especially if you don't rise and set with the sun. The color of the honeycomb is naturally smoothed by the diffusion of light and the touch of the fabric. Keep the room quiet and increase mobility - your blinds can actually be operated by yourself. Finally, the honeycomb shadow that makes the atmosphere feel warm is your best choice in the bedroom.
Restaurant
This is where you celebrate the best things, from your family rituals every night to your feasts several times a year. Honeycomb color will keep the space warm and private, with a soft and warm feeling. This is a good choice for anyone who uses the restaurant for large or small celebrations.
The living room
Honeycomb blinds are a great protection against direct sunlight. You can choose the amount of light you want to enter while maintaining your outdoor view. Jump out of the frame of this room and create an iconic space with colors, bold patterns and mixed fabrics.
Shower room
Since bathrooms are wet areas, they need to be able to withstand wet window treatments. Privacy is another major factor in choosing bathroom curtains. Cellular blinds provide these two functions.
The only thing to note is that if you need help choosing the right unit curtains and blinds for any particular room, you just need to stop at any of our locations and meet with our talented design experts!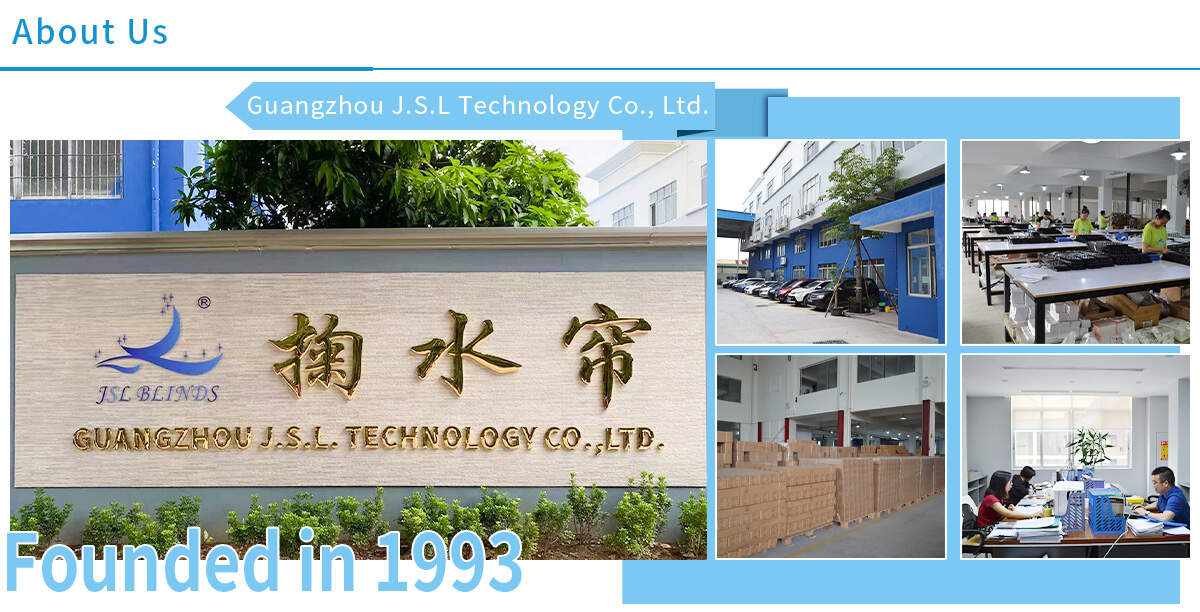 Company Profile
Guangzhou J.S.L Technology Co., Ltd.is situated in guangzhou,China. Our factory was found in 1993,we are a manufacturer that produces and sells a variety of window blind and intelligent sunshade products.Our own workshop covers an area of about 10,000 square meters, with three main production lines,several automatic and semi-automatic professional production lines,such as automated mini blind equipments, roller shade equipments, packaging equipments, etc.We have about 100 skilled production staffs, 20 management staffs,5 development and design staffs. Committed to becoming a one-stop purchasing blinds factory,our production line includes aluminum blinds, wooden blinds,faux wood blind, vertical blinds, PVC venetian blinds, bamboo blinds, roller blinds,vertical blind,zebra blind,RV blinds,motorized blind and related blind parts, blind making machines.
We can yearly output 1.5 million pcs PVC and aluminum blinds,500,000 pcs faux wood blind,200,000 pcs vertical blind,1.5 million pcs roller shade, 1.5 million pcs pleated shade,1.5 million pcs other blinds. Our products are exported to Europe, America, Southeast Asia and the Middle East and have won us a good reputation. As one of the most well-organized and experienced professional manufacturer of window decorations in China, we can ensure excellent quality, attractive prices and good services. We are trying our best to satisfy our customers through continuous research and development of new products and prompt delivery. Clients from domestic and abroad are welcome to contact us for business cooperation. About 100 skilled production personnel, 15 excellent quality inspectors, and 20 experienced management personnel ensure product quality and delivery time. 10 sales provide customers high-quality pre-sales and after-sales service.
Our services
OEM
ODM
Free sample
6 months quality guarantee
On-site or online factory and goods inspection
Online survey site, remote guidance of design, installation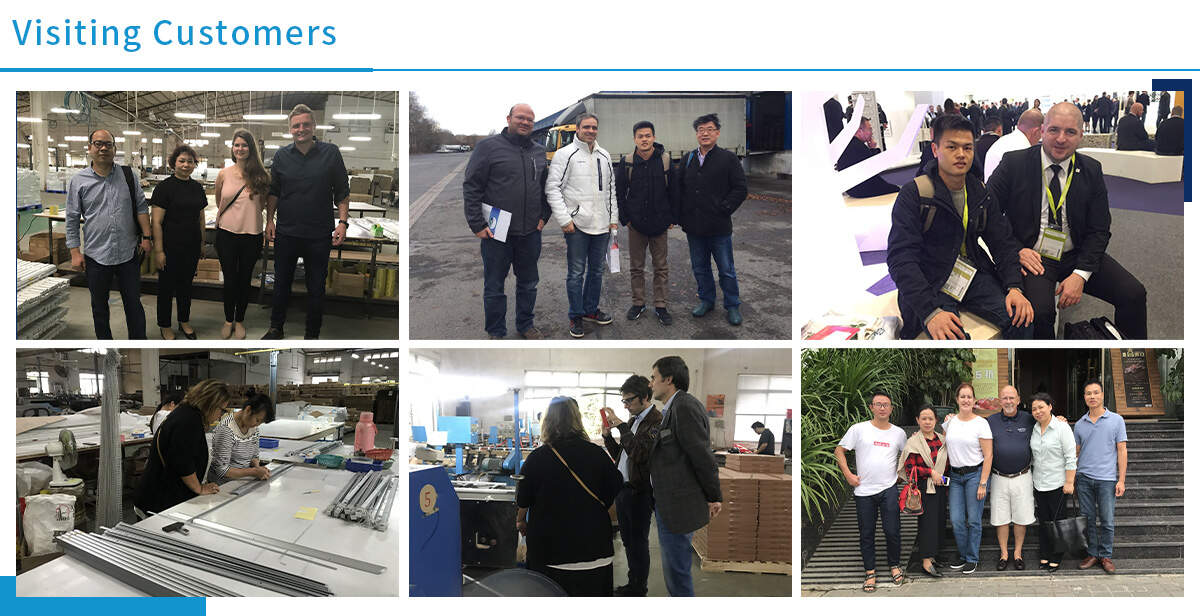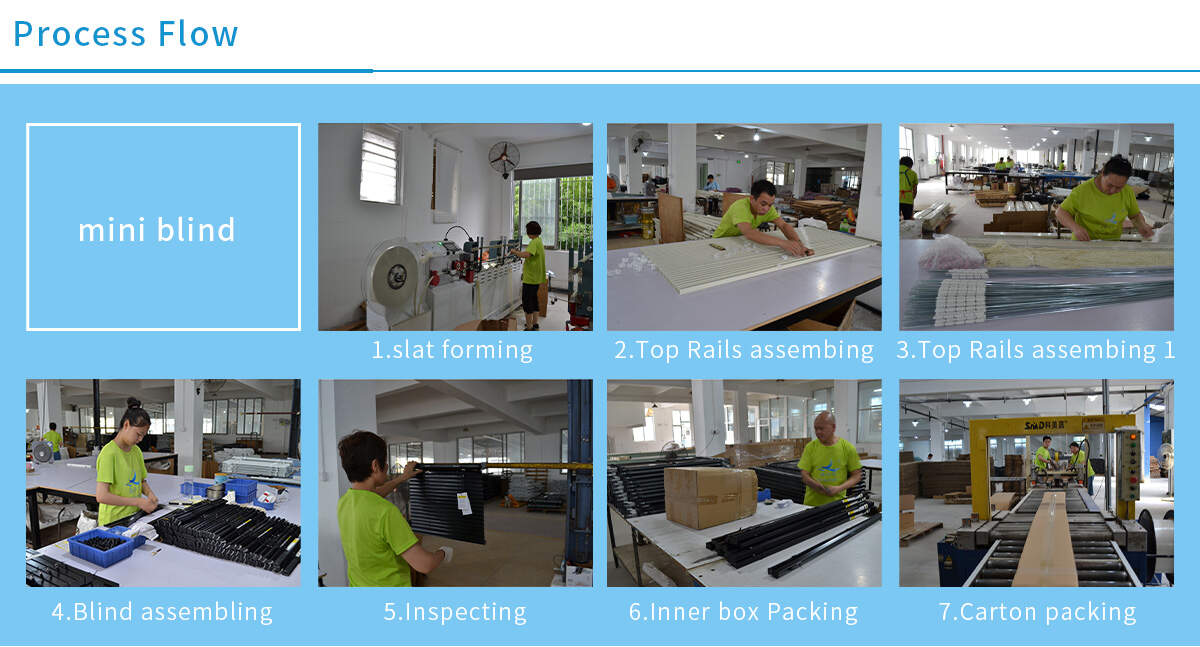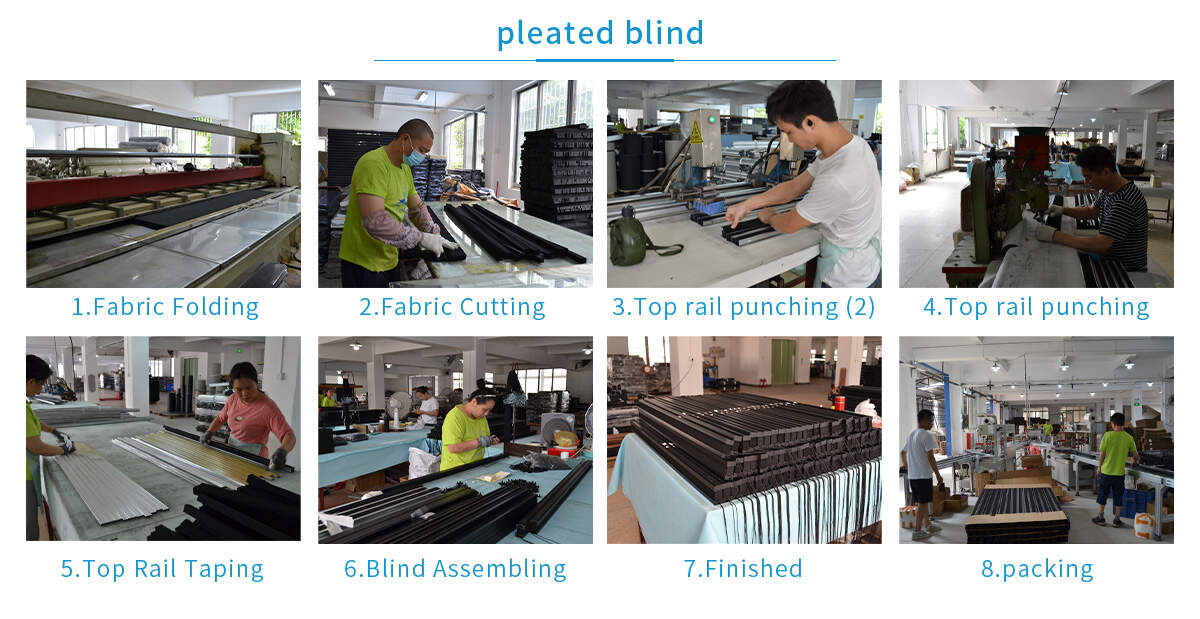 Process flow of venetian blind
Forming and punching of slats
Rails prep installation
Connect slats anad rails
Inspection
Package
Process flow of fabric blind
Fabric cutting, folding
Rails prep installation
Connect fabrics anad rails
Inspection
Package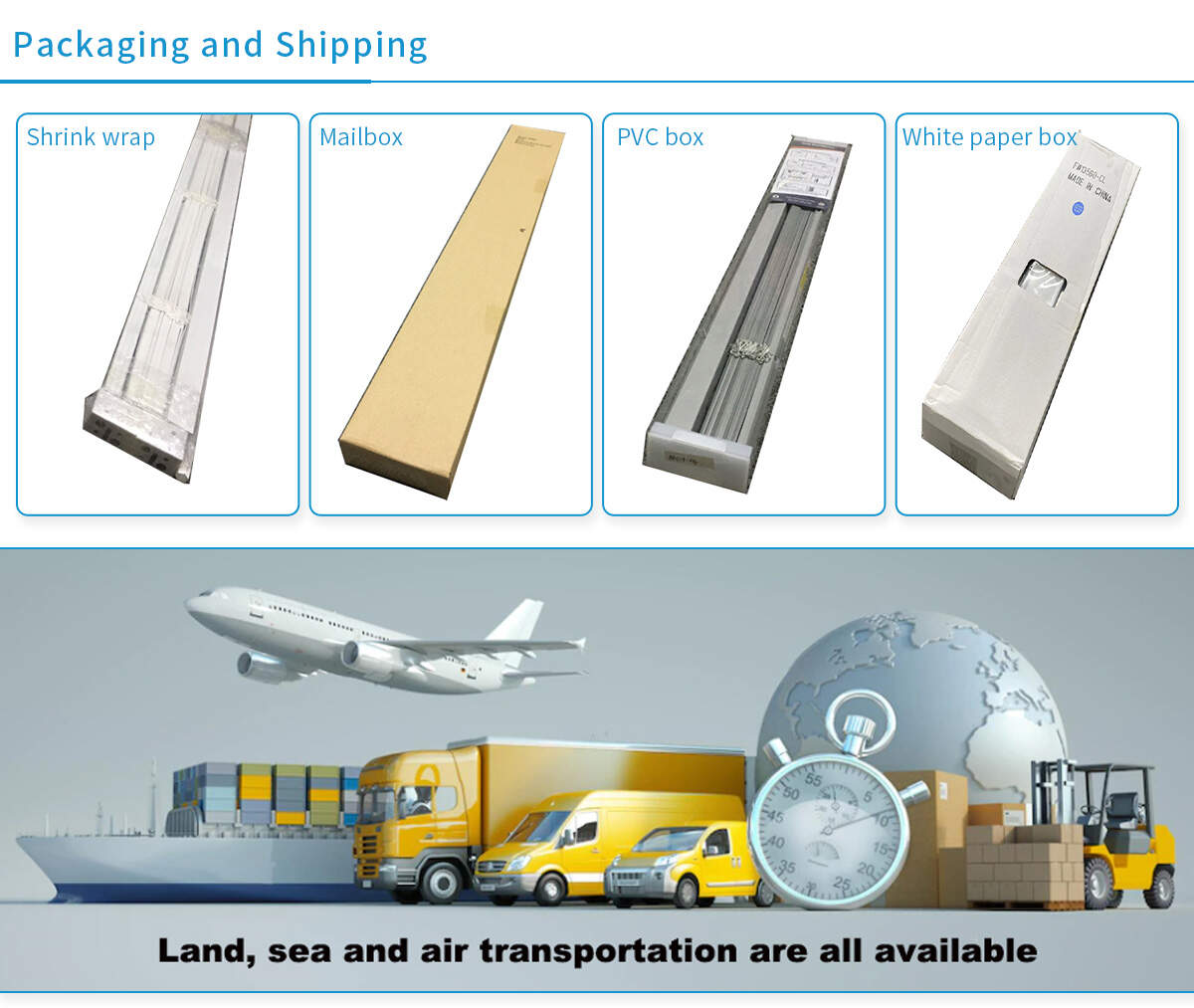 Packing & Shipping
Generally, the goods are delivered to customers by sea or air, the production time is 45-60 days, and the goods are packed in carton or pallets.Sale package option: Paper boxes, PVC transparent boxes, mail order boxes and so on.What is more, packaging can be designed according to customer requirements.
FAQ
Q: What is the MOQ?
A: MOQ: 300PCS
Q: What is your delivery time?
A: 45-60 days
Q: What is the payment method?
A: TT,L/C,Paypal, West Union, 30% deposit,70% balance before shipping.
Q: How do you guarantee the quality of your products?
A: we have an inspection team of 10 workers, 100% inspection for every piece of blind from appearance to function.
Q: Are you a factory or a trading company?
A: We are a manufacturer.
Q: Where is your factory?
A: Guangzhou,China
Q: Are custom services available?
A: Yes.
Q: Do you support OEM and ODM?
A: Yes.
Q: Why choose us?
A: We have the following advantages: competitive prices,high quality, on time delivery,free samples.7/24 hours after-sale service.We can be your trustful partners on window blinds and shades markets!
Q: How long is the product warranty?
A: 6 months.
Q: Does your packaging ensure product safety?
A: Sale package option: Paper boxes, PVC transparent boxes, mail order boxes and so on. Seaship outer package:and the goods are packed in carton or pallets.
Q: What information do I need to provide to get an accurate quote?
A: Blind type, blind width and height, quantity and other request.
Q: How can I get product progress without going to your company?
A: We will keep you updated on production stage by email,when the goods are ready you can have video inspection,video shipping monitor.
Q: How is your after-sales service?
A: 7 sales provide customers high-quality pre-sales and after-sales service.
Q: Can samples be ordered?
A: Yes.
Q: How much is the sample fee, can it be refunded after bulk product?
A: Most samples are free, for high value samples we will charges and refund accordingly order scale.
Q: Do you provide quality assurance?
A: 6 months quality guarantee.
Q: Do you support providing samples?
A: Yes.
Q: What is the supply capacity?
A: We can yearly output 1.2 million pcs PVC and aluminum blinds,450,000 pcs faux wood blind,200,000 pcs vertical blind.