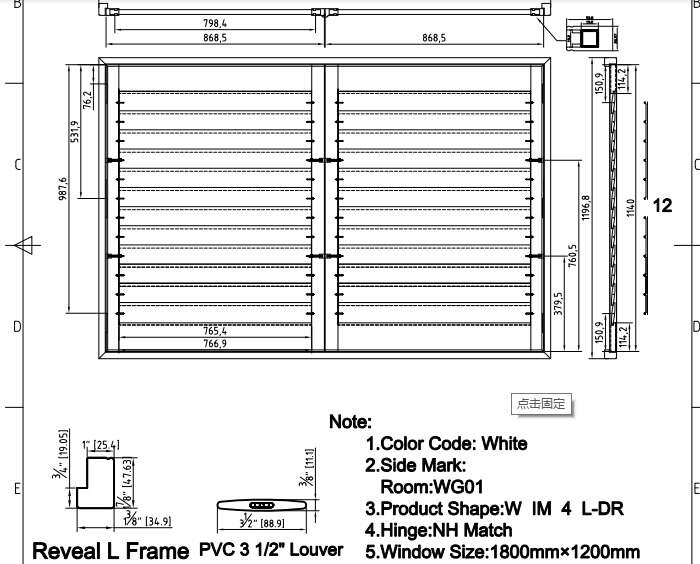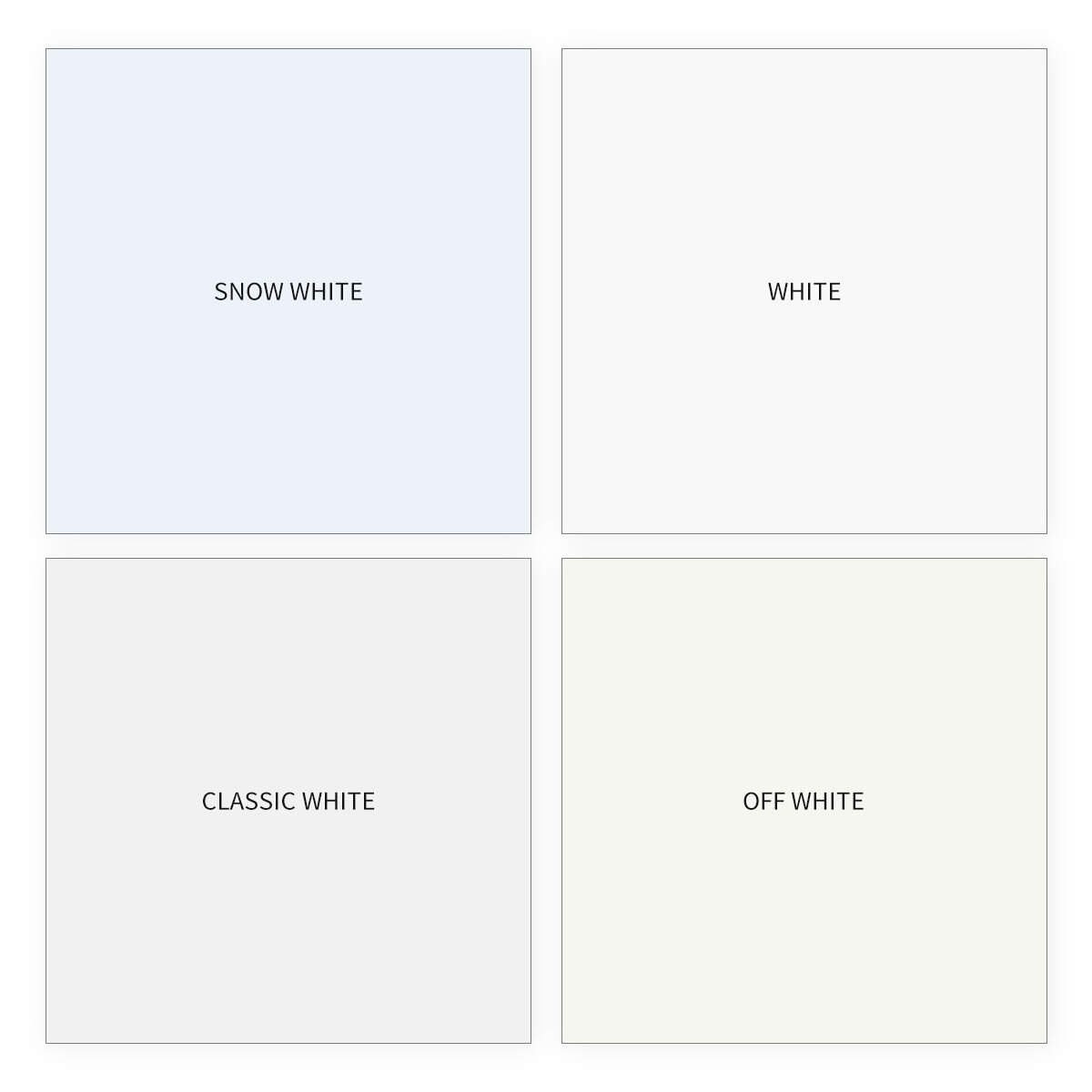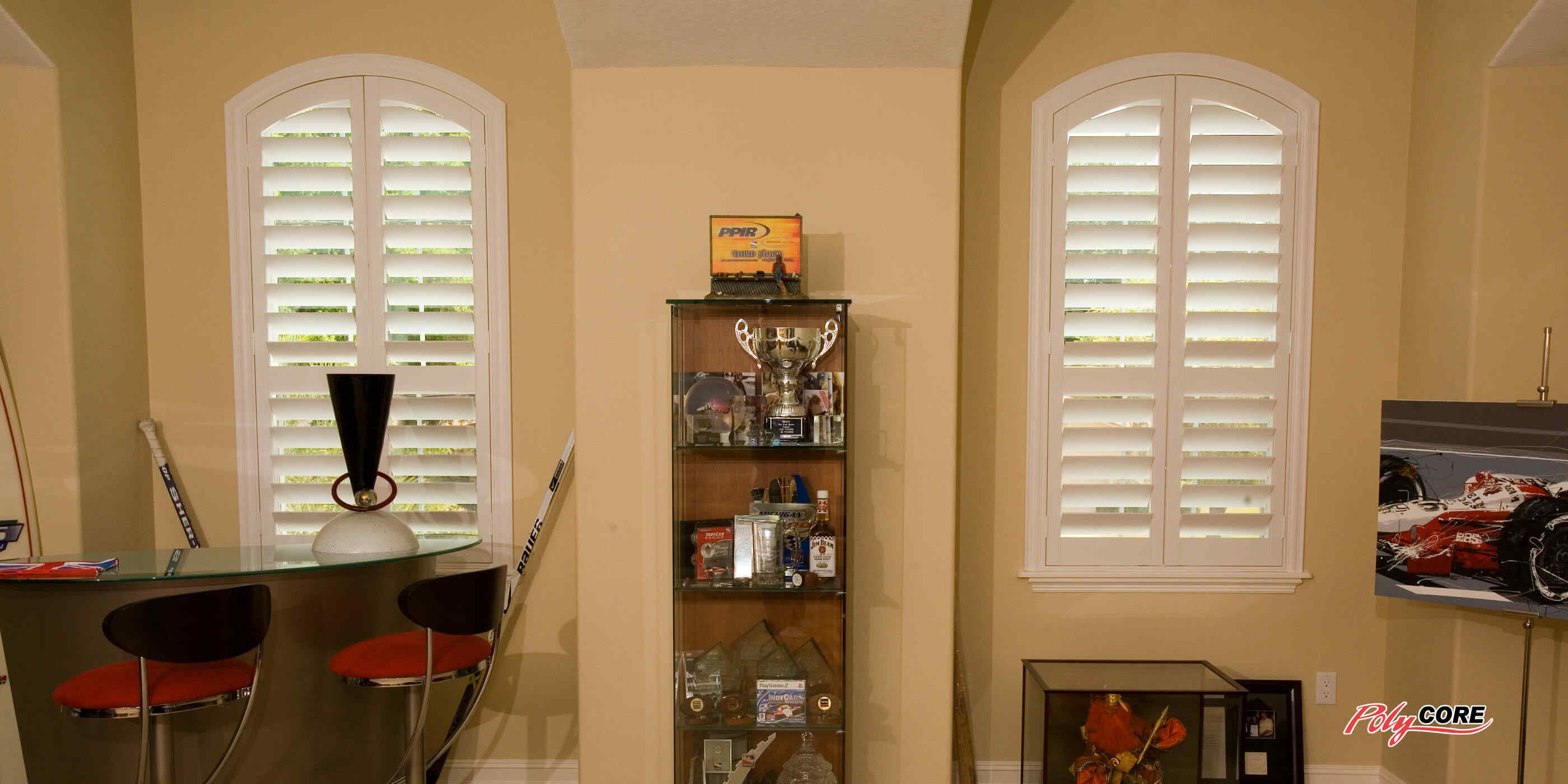 Plantation shutter can add our plantation shutters to your home for an easy and stylish upgrade. And it widely to use to decorate the building, not only the hotel, but also villa and house
J.S.L. PVC plantation shutters made from a hi-tech advanced polymer that's designed never to warp, crack or peel making these window shutters the perfect choice for a kitchen, a bathroom, or any other room. We also offer a gorgeous collection of premium grade Paulownia plantation blinds that will give you a fortified traditional timber feel.
Our PVC shutter blinds can be painted or stained to suit your interior and have fully customisable hardware - in our opinion they are the perfect DIY shutters. Based on it, lots of clients would like to order the shutter by white color.
J.S.L. PVC shutter slat width:2.5"(63.5MM); 3.5"(88.9MM) and 4.5"(114.3MM), slat control options: fixed, rotating, with or without control bar, right now, our factory also launch electric.
PVC shutter not only has different slat width, but also has different frame, such as" L" and "Z" frame for selecting.
PV shutter also has many styles: Normally it has hinge style, sliding style(it is for door), full height shutter, tier to tier shutter and so on. And before producing, we will send the drawing to you for approval, to confirm the size and style would meet your request.
How to install the shutteras? following are some steps for your easy reference.
Know which panel corresponds to which frame. If you're installing multiple plantation shutters, find out which panel goes with its corresponding frame. All of your pieces should be labeled, making this very easy to do.
To avoid getting confused, you can lay out each frame and panel that go together beforehand.
If there are any labels on the frame or panels, keep them on until you've finished installing the shutters entirely.
2) Use hinge pins to install the panel. Lift the panel up to its frame and use hinge pins, which should be part of the hardware that comes with the shutters, to attach the panel to the frame. Drop a pin into each hinge to join them together.[3]
If you're having trouble getting the pins to fit into the hinges, you can loosen the screws from a hinge, move it a little until the pin drops in, and then reattach the screws.
3)Adjust the panels and frame until they align well. Open and close the panel door to make sure that it lines up with the frame. The frame should still have mobility at the bottom, so move the frame from side to side until it lines up with the panel. There shouldn't be any large gaps or uneven sides. You can use the level again to make sure everything is straight as well
4)Insert the remaining screws into the bottom of the frame. Once your panel and frame are aligned, you can attach the frame securely by inserting the bottom screws and any other remaining screws. Drill the screws in carefully, checking each time that the panel and frame are still aligned and straight
5) Cover the frame holes if necessary. Many plantation shutters come with small caps that you can fill your drill holes in with. Cover each hole in the frame with these caps if desired, but not covering the holes will not impact your shutters.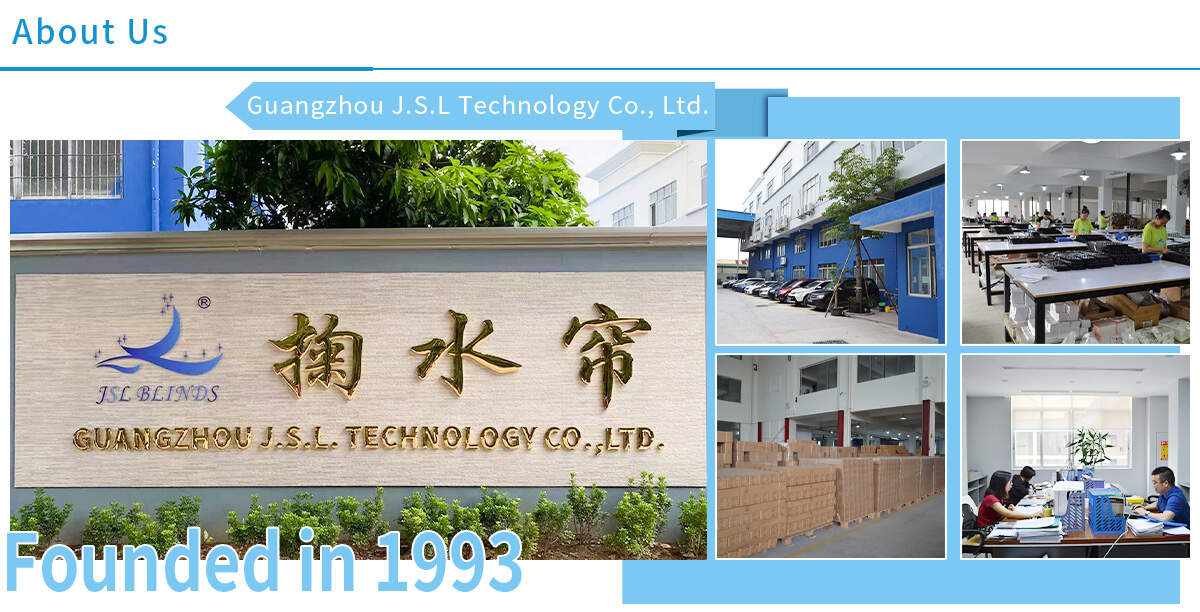 Company Profile
Guangzhou J.S.L Technology Co., Ltd.is situated in guangzhou,China. Our factory was found in 1993,we are a manufacturer that produces and sells a variety of window blind and intelligent sunshade products.Our own workshop covers an area of about 10,000 square meters, with three main production lines,several automatic and semi-automatic professional production lines,such as automated mini blind equipments, roller shade equipments, packaging equipments, etc.We have about 100 skilled production staffs, 20 management staffs,5 development and design staffs. Committed to becoming a one-stop purchasing blinds factory,our production line includes aluminum blinds, wooden blinds,faux wood blind, vertical blinds, PVC venetian blinds, bamboo blinds, roller blinds,vertical blind,zebra blind,RV blinds,motorized blind and related blind parts, blind making machines.
We can yearly output 1.5 million pcs PVC and aluminum blinds,500,000 pcs faux wood blind,200,000 pcs vertical blind,1.5 million pcs roller shade, 1.5 million pcs pleated shade,1.5 million pcs other blinds. Our products are exported to Europe, America, Southeast Asia and the Middle East and have won us a good reputation. As one of the most well-organized and experienced professional manufacturer of window decorations in China, we can ensure excellent quality, attractive prices and good services. We are trying our best to satisfy our customers through continuous research and development of new products and prompt delivery. Clients from domestic and abroad are welcome to contact us for business cooperation. About 100 skilled production personnel, 15 excellent quality inspectors, and 20 experienced management personnel ensure product quality and delivery time. 10 sales provide customers high-quality pre-sales and after-sales service.
Our services
OEM
ODM
Free sample
6 months quality guarantee
On-site or online factory and goods inspection
Online survey site, remote guidance of design, installation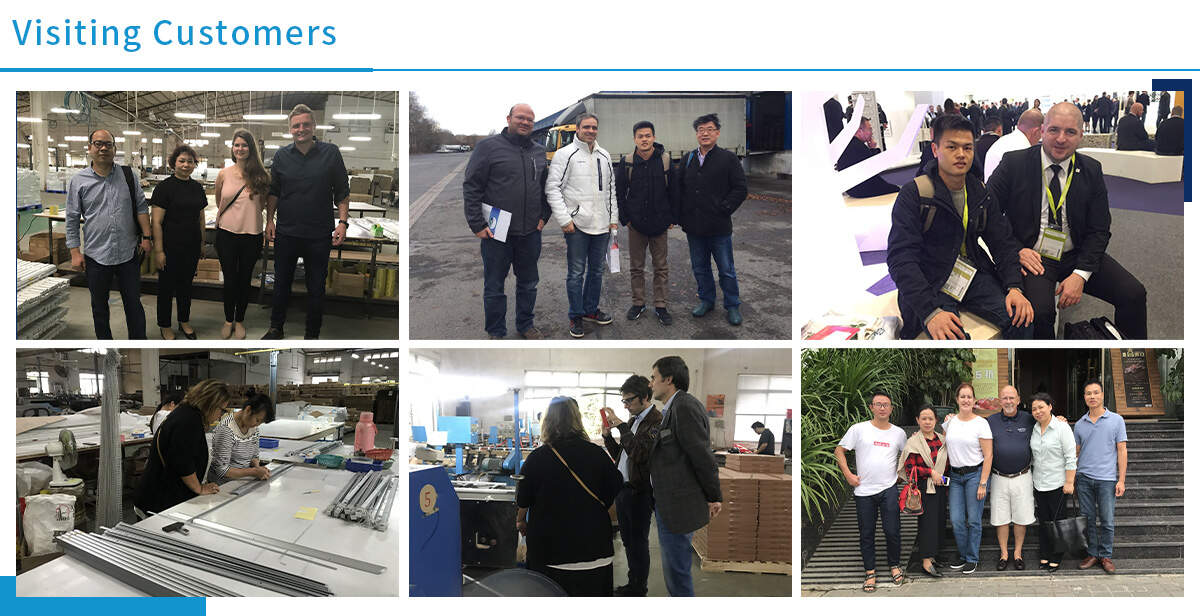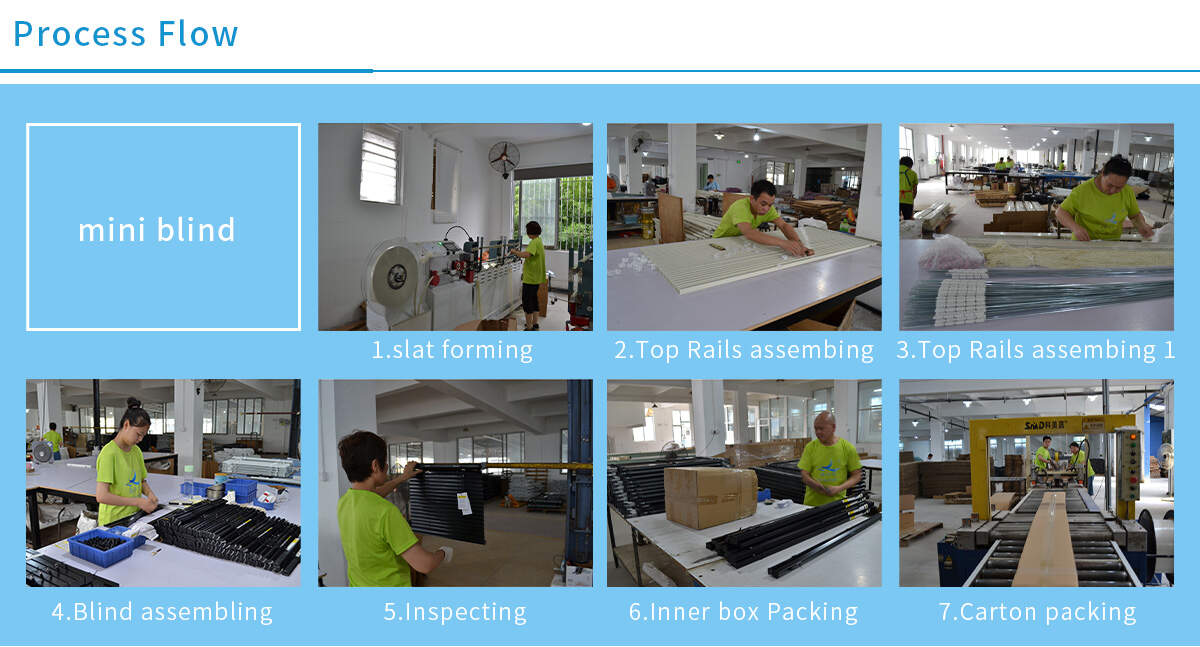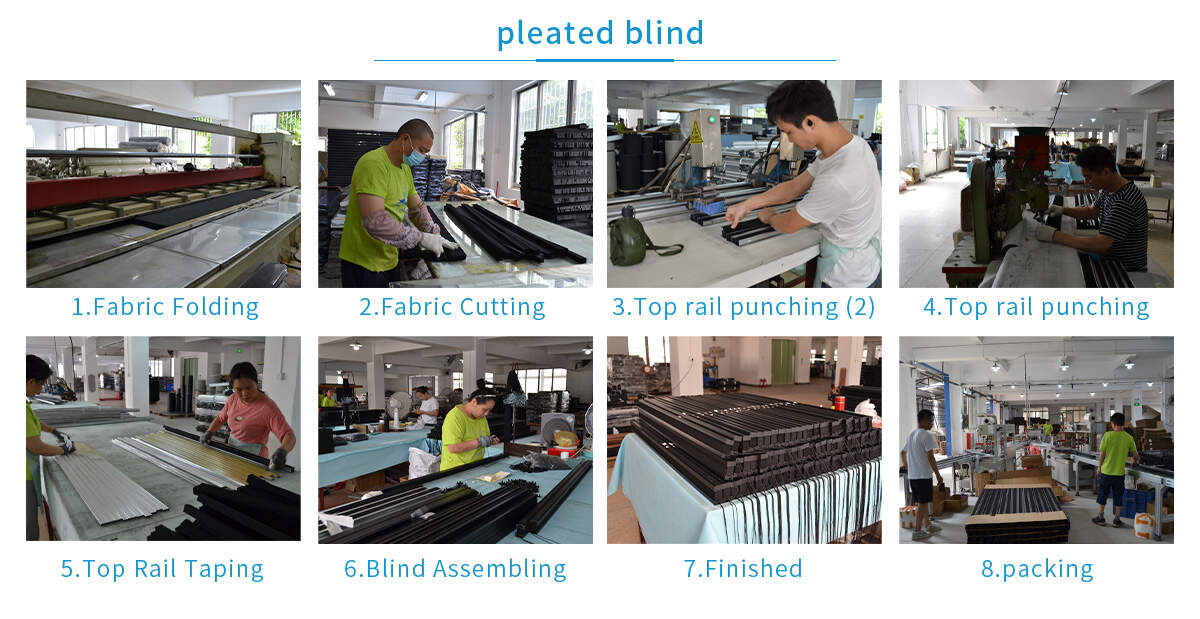 Process flow of venetian blind
Forming and punching of slats
Rails prep installation
Connect slats anad rails
Inspection
Package
Process flow of fabric blind
Fabric cutting, folding
Rails prep installation
Connect fabrics anad rails
Inspection
Package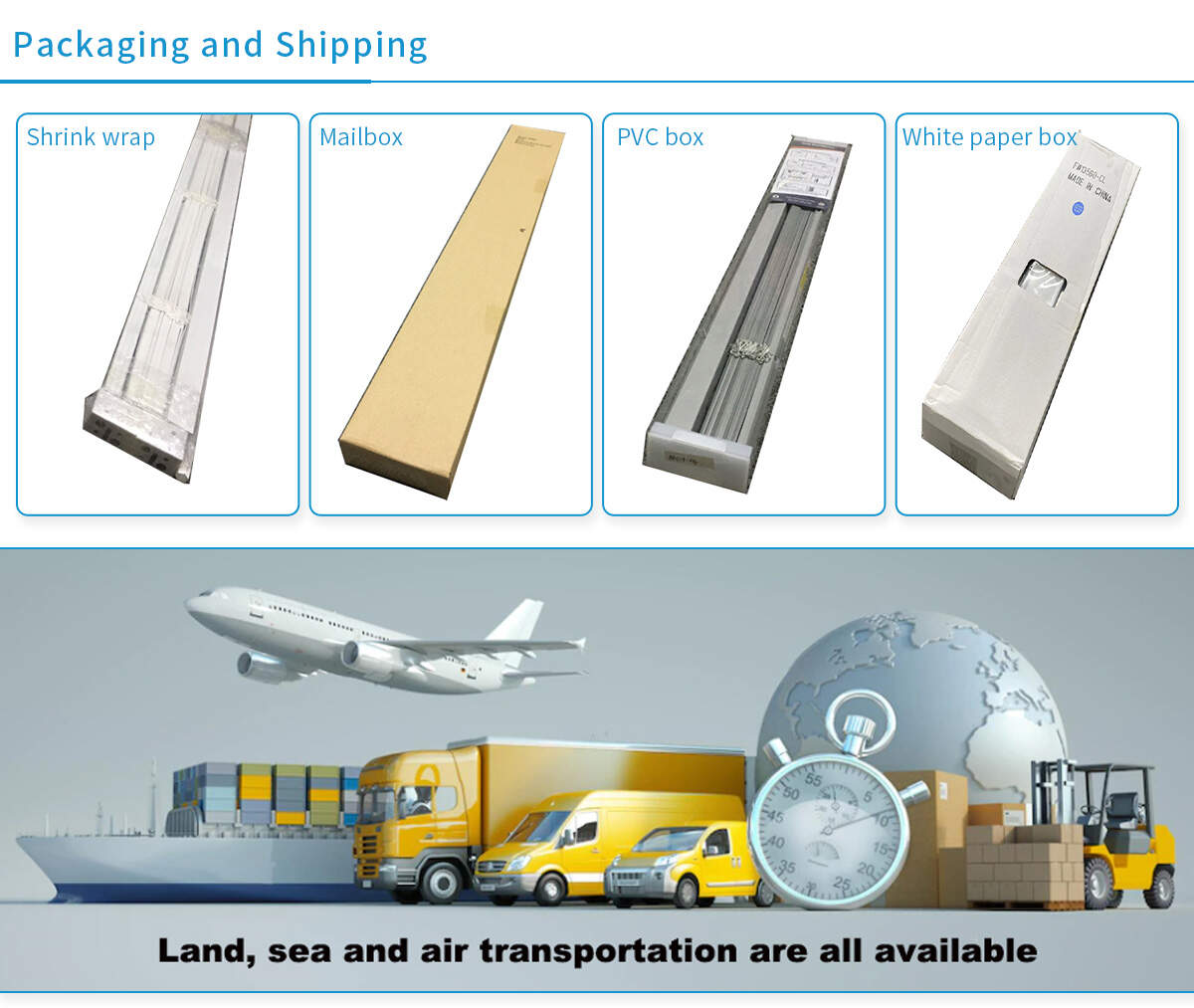 Packing & Shipping
Generally, the goods are delivered to customers by sea or air, the production time is 45-60 days, and the goods are packed in carton or pallets.Sale package option: Paper boxes, PVC transparent boxes, mail order boxes and so on.What is more, packaging can be designed according to customer requirements.
FAQ
Q: What is the MOQ?
A: MOQ: 300PCS
Q: What is your delivery time?
A: 45-60 days
Q: What is the payment method?
A: TT,L/C,Paypal, West Union, 30% deposit,70% balance before shipping.
Q: How do you guarantee the quality of your products?
A: we have an inspection team of 10 workers, 100% inspection for every piece of blind from appearance to function.
Q: Are you a factory or a trading company?
A: We are a manufacturer.
Q: Where is your factory?
A: Guangzhou,China
Q: Are custom services available?
A: Yes.
Q: Do you support OEM and ODM?
A: Yes.
Q: Why choose us?
A: We have the following advantages: competitive prices,high quality, on time delivery,free samples.7/24 hours after-sale service.We can be your trustful partners on window blinds and shades markets!
Q: How long is the product warranty?
A: 6 months.
Q: Does your packaging ensure product safety?
A: Sale package option: Paper boxes, PVC transparent boxes, mail order boxes and so on. Seaship outer package:and the goods are packed in carton or pallets.
Q: What information do I need to provide to get an accurate quote?
A: Blind type, blind width and height, quantity and other request.
Q: How can I get product progress without going to your company?
A: We will keep you updated on production stage by email,when the goods are ready you can have video inspection,video shipping monitor.
Q: How is your after-sales service?
A: 7 sales provide customers high-quality pre-sales and after-sales service.
Q: Can samples be ordered?
A: Yes.
Q: How much is the sample fee, can it be refunded after bulk product?
A: Most samples are free, for high value samples we will charges and refund accordingly order scale.
Q: Do you provide quality assurance?
A: 6 months quality guarantee.
Q: Do you support providing samples?
A: Yes.
Q: What is the supply capacity?
A: We can yearly output 1.2 million pcs PVC and aluminum blinds,450,000 pcs faux wood blind,200,000 pcs vertical blind.